IEEE
About the SREC IEEE Student Branch:
SREC IEEE Student Branch was formed on 16th December 2014 under the IEEE Hyderabad Section, with the spirit of providing resources to the students for the enhancement of their professional career.
It has received the "Vibrant Student Branch" award for the year 2012. It is a student –driven organization which promotes the interests of the engineering students on and the off-campus by organizing various events and activities.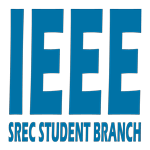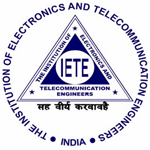 IETE :
ABOUT IETE
The Institution of Electronics and Telecommunication Engineers (IETE) is India's leading recognised professional society devoted to the advancement of Science and Technology of Electronics, Telecommunication & IT. Founded in 1953. The IETE is the National Apex Professional body of Electronics and Telecommunication, Computer Science and IT Professionals. It serves more than 1,25,000 members (including Corporate, Student and ISF members) through various 64 Centres, spread all over India and abroad. The Institution provides leadership in Scientific and Technical areas of direct importance to the national development and economy. Government of India has recognised IETE as a Scientific and Industrial Research Organization (SIRO) and also notified as an educational Institution of national eminence. The objectives of IETE focus on advancing electro-technology. The IETE conducts and sponsors technical meetings, conferences, symposia, and exhibitions all over India, publishes technical journals and provides continuing education as well as career advancement opportunities to its members.
IETE Student Forum
The IETE focuses on advancement of the Science and Technology of Electronics, Telecommunication, Computers, Information Technology and related areas. Towards this end the Institution promotes and conducts basic engineering and continuing technical education programmes for human resource development.
IETE STUDENT FORUM was established at SR Engineering College for the improvement of engineers in the field of Electronics, Telecommunications and Computers have been improving gradually in the number of registrations every year. By providing a good platform to the upcoming graduates, now we have members from all the four years of B.Tech students
IETE Activities
| S.No. | Organizing Society | Name of the event | Guest Lecture/Venue |
| --- | --- | --- | --- |
| 1 | ECE-IETE Professional society | Guest Lecture on "CAREER GUIDANCE FOR ELECTRONICS AND COMMUNICATION ENGINEERS" held on 13th Feb 2016: | Dr.D.Ranganadham Deputy Director General (Engineering) in Doordarshan Kendra Hyderabad |
| 2 | ECE-IETE Professional society | Industrial visit by ECE students(100 students) on 3rd march2016 | All India Radio, Warangal |
| 3 | ECE-IETE Professional society | 3 days guest lecture was organized on 23rd, 24th &25th march, 2016 (Micro Electronics) | Dr. ANDREZJ RUCINSKI, Professor University of Hampshire,USA |
| 4 | ECE-IETE Professional society | Guest Lecture on "Overview of Research Activity at OHIO State University" on 13th June 2016 | John L. Volakis Professor and Chope Chair, Electrical & Computer Engr.Professor and Director, |
| 5 | ECE-IETE Professional society | Two day workshop on " Introduction tonopen Hardware & Internet of things" On 29th and 30th December 2016. | Swecha Group , JNTUH. |
| 6 | ECE-IETE Professional society | Guest Lecture on topic "LATEST TRENDS IN COMMUNICATION" 3rd MARCH,2017 | CH. RAMESH I.E.S. |
---