Welcome to civil engineering department, ECSC, IEI, India. It gives me a great pleasure to lead the civil engineering professional ethics and values through engineering college student's chapter of Institution of Engineers, India. Through managing committee from among the Students enrolled from our college, to encourage professional advancement by organising Seminars, Field Visits, Conferences, Improving Leadership, Communication Skills, Group Discussion etc., to benefit the students for getting Campus Placements and Updating knowledge through e – Libraries of reputed professional bodies Like IEI, Writing articles by students, News Letters throughout India by Publishing Students activity which Necessitates to write, to improve professional competency in Engineering in their CV's as well, certifications from Professional Bodies.
I wish the Students all the best to reach high echelons of education and research programs within India and International Level.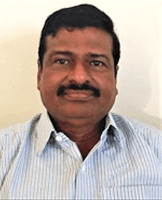 S. Goverdhan Reddy, FIE, FIGS
M. Tech (Geo-Technical), MBA(HRM),
Advisor ECSC, IEI, India,
Associate Professor,
SREC, Warangal.
---
About
Institution of Engineers India(IEI) was established in 1920. It was premier professional body of engineers in India that has contributed significantly in all the fields of engineering and in all the aspects like academics, administration, and consultancy. IEI has been functioning under the guidelines laid by the Royal Charter sanctioned in the year 1935 and has contributed to national socio- techno economic development policies.
Now IEI has facilitated with a student chapter in our college.
---
IEEE
About the SREC IEEE Student Branch:
SREC IEEE Student Branch was formed on 16th December 2014 under the IEEE Hyderabad Section, with the spirit of providing resources to the students for the enhancement of their professional career.
It has received the "Vibrant Student Branch" award for the year 2012. It is a student –driven organization which promotes the interests of the engineering students on and the off-campus by organizing various events and activities.

| S.No. | Name | Role | Phone Number | E-mail |
| --- | --- | --- | --- | --- |
| 1 | S. Govardhan Reddy | Advisor | 8639683391 | govardhanreddy_s@srecwarangal.ac.in |
| 2 | G.RohithKalyan | Convenor | 9700420950 | kalyanrohith48@gmail.com |
| 3 | G.Vinay Kumar | Member | 7799625199 | |
| 4 | N.NagaDatt Sharma | Member | 9490497546 | nagilla.nagadattu@gmail.com |
| 5 | P. Sai Sree | Member | 7093838187 | |
| 6 | Md.Azhar | Member | 8801903188 | |
| 7 | B. Anitha | Member | 7036487225 | |
| 8 | Roushansinghrathaur | Member | 8187810282 | |
| 9 | P.Pavankumar | Member | | |
| 10 | A.koteshwar | Member | 9100161092 | |
| 11 | J.VISHWANATH Chairman IEI local chapter ,Warangal | Ex-officio member | | |
| 12 | Chairman IEI state center, HYD | Ex-officio member | | |
| S.No. | ROLL NUMBER | NAME | ID | BRANCH |
| --- | --- | --- | --- | --- |
| 1 | 14K41A0167 | BANDI VINAY KUMAR | 506371/SREC/CV/001 | CE |
| 2 | 14K41A0198 | PONNOJU PAVAN KUMAR | 506371/SREC/CV/002 | CE |
| 3 | 14K41A0197 | PENTA KRANTHI RANDEESH | 506371/SREC/CV/003 | CE |
| 4 | 14K41A0176 | GANDHAM BHARATH KUMAR | 506371/SREC/CV/004 | CE |
| 5 | 15K41A0113 | DUPPATI SUPRAJA | 506371/SREC/CV/005 | CE |
| 6 | 15K41A0157 | VUGGE SOWMYA SREE | 506371/SREC/CV/006 | CE |
| 7 | 15K41A0146 | SADARALA VIJAYA CHANDRIKA | 506371/SREC/CV/007 | CE |
| 8 | 15K41A0124 | KODURI SWATHI | 506371/SREC/CV/008 | CE |
| 9 | 15K41A0125 | KOLIPAKA RAMAKANTH | 506371/SREC/CV/009 | CE |
| 10 | 15K41A0103 | ALLAM ARVIND KUMAR | 506371/SREC/CV/010 | CE |
| 11 | 15K41A01A0 | SHAIK AMJATH PASHA | 506371/SREC/CV/011 | CE |
| 12 | 15K41A0187 | MOHD ABDUL AXHAR AHMED | 506371/SREC/CV/012 | CE |
| 13 | 15K41A0196 | PUPPALA SAISREE | 506371/SREC/CV/013 | CE |
| 14 | 15K41A01A7 | VELISHOJU SRUTHI | 506371/SREC/CV/014 | CE |
| 15 | 15K41A01A2 | SINDHE BHAVANI | 506371/SREC/CV/015 | CE |
| 16 | 15K41A0164 | BANKA SATHWIK | 506371/SREC/CV/016 | CE |
| 17 | 15K41A0185 | MD SAJJAD UDDIN | 506371/SREC/CV/017 | CE |
| 18 | 15K41A0189 | MOHD YOUSAFAIN FARAZ | 506371/SREC/CV/018 | CE |
| 19 | 15K41A01A3 | SYED HAFEEZUDDIN | 506371/SREC/CV/019 | CE |
| 20 | 15K41A0175 | GUNDU ANKITH | 506371/SREC/CV/020 | CE |
| 21 | 15K41A0167 | BOANAGIRI ANIHTA | 506371/SREC/CV/021 | CE |
| 22 | 15K41A0186 | MOHAMMED RAHMATHULLA | 506371/SREC/CV/022 | CE |
| 23 | 15K41A0161 | KOTESHWAR AKKALA | 506371/SREC/CV/023 | CE |
| 24 | 14K41A0106 | BANKA RAMESH | 506371/SREC/CV/024 | CE |
| 25 | 14K41A0107 | BANOTH SURESH | 506371/SREC/CV/025 | CE |
| 26 | 14K41A0115 | DODDA SANJAY | 506371/SREC/CV/026 | CE |
| 27 | 14K41A0120 | GUNDA ROHITH KALYAN | 506371/SREC/CV/027 | CE |
| 28 | 14K41A0121 | GUNDU MUKESH | 506371/SREC/CV/028 | CE |
| 29 | 14K41A0126 | KOLARIYA TULASI RMA | 506371/SREC/CV/029 | CE |
| 30 | 14K41A0138 | NAGILLA NAGADATT SHARMA | 506371/SREC/CV/030 | CE |
| 31 | 15K45A0102 | APPANI AKSHAY | 506371/SREC/CV/031 | CE |
| 32 | 14K41A0104 | BALSKURI DEEPIKA | 506371/SREC/CV/032 | CE |
| 33 | 14K41A0175 | ELUKURTHI SAHITHI | 506371/SREC/CV/033 | CE |
| 34 | 14K41A01A9 | THOKALA ARCHANA | 506371/SREC/CV/034 | CE |
| 35 | 14K41A0171 | CHEEKATI MANASA | 506371/SREC/CV/035 | CE |
| 36 | 14K41A0186 | MALE PRIYANKA | 506371/SREC/CV/036 | CE |
| 37 | 14K41A01B0 | THUMMALA SOUJANYA | 506371/SREC/CV/037 | CE |
| 38 | 14K41A01A3 | REHANA BEGUM | 506371/SREC/CV/038 | CE |
| 39 | 14K41A01A4 | SIRIPURAM HARISH | 506371/SREC/CV/039 | CE |
| 40 | 14K41A01A7 | TAKKILLAPELLY SHIVANI | 506371/SREC/CV/040 | CE |
| 41 | 15K45A0113 | BONALA ANUSHA | 506371/SREC/CV/041 | CE |
| 42 | 15K45A0124 | SABAVATH SHARADHA | 506371/SREC/CV/042 | CE |
| 43 | 14K41A0169 | BUDIME SRAVAN KUMAR | 506371/SREC/CV/043 | CE |
| 44 | 14K41A0177 | GANKIDI VINAY | 506371/SREC/CV/044 | CE |
| 45 | 15K45A0117 | GUGGILLA SAI KRISHNA PRASAD | 506371/SREC/CV/045 | CE |
| 46 | 15K45A0122 | NAMANI ABHINAY KUMAR | 506371/SREC/CV/046 | CE |
| 47 | 14K41A0173 | VALUPADASU RAKESH | 506371/SREC/CV/047 | CE |
| 48 | 14K41A0172 | DUMPALAPELLI BHAVANI | 506371/SREC/CV/048 | CE |
| 49 | 14K41A0182 | KETHIRI SOUMYA | 506371/SREC/CV/049 | CE |
| 50 | 14K41A0179 | GUGULOTH SANTHOSH | 506371/SREC/CV/050 | CE |
| 51 | 14K41A0181 | KADARI PRASHANTH | 506371/SREC/CV/051 | CE |
| 52 | 14K41A0199 | POTHANA SUNIL KUMAR | 506371/SREC/CV/052 | CE |
| 53 | 14K41A0191 | MOHAMMED THASEEN RAZA | 506371/SREC/CV/053 | CE |
| 54 | 15K45A0114 | BANOTH SHARATH | 506371/SREC/CV/054 | CE |
| 55 | 15K45A0116 | DHARAVATH NAVEEN | 506371/SREC/CV/055 | CE |
| 56 | 14K41A0168 | BODA NARSIMHA | 506371/SREC/CV/056 | CE |
| 57 | 15K45A0120 | MALOTHU SRIKANTH | 506371/SREC/CV/057 | CE |
| 58 | 15K45A0123 | PULLURI GOVARDHAN | 506371/SREC/CV/058 | CE |
| 59 | 15K45A0121 | NALIKA RAKESH | 506371/SREC/CV/059 | CE |
| 60 | 14K41A01A1 | PULLURI ABHIRAM | 506371/SREC/CV/060 | CE |
| 61 | 14K41A0192 | MOORTHALA PRASHANTH | 506371/SREC/CV/061 | CE |
| 62 | 14K41A0194 | NAGULA AJAY | 506371/SREC/CV/062 | CE |
| 63 | 14K41A0183 | KONDRA SNEHA | 506371/SREC/CV/063 | CE |
| 64 | 15K45A0118 | JATTISHIVA PRASAD | 506371/SREC/CV/064 | CE |
| 65 | 14K41A0196 | ULLENGLA KISHORE | 506371/SREC/CV/065 | CE |
| 66 | 14K41A0170 | BURRA SRAVAN | 506371/SREC/CV/066 | CE |
| 67 | 13K41A0180 | E SHARNYA | 506371/SREC/CV/067 | CE |
| 68 | 13K41A01A3 | MRUNALINI PASHKANTI | 506371/SREC/CV/068 | CE |
| 69 | 13K41A0165 | ANUMANDLA MOUNIKA | 506371/SREC/CV/069 | CE |
| 70 | 13K41A0164 | ANNAMDAS RANJITH | 506371/SREC/CV/070 | CE |
| 71 | 13K41A0184 | KONKALA DILEEP | 506371/SREC/CV/071 | CE |
| 72 | 14K45A0118 | M SUNITHA | 506371/SREC/CV/072 | CE |
| 73 | 13K41A0190 | METHU MEGHANATH | 506371/SREC/CV/073 | CE |
---
Department

Testimonial
I completed my B.Tech Civil in SREC Warangal during (2018-2022). The field experienced faculty members and the regular faculty members taught the core subjects well. SREC is a very good disciplined college.

SYEDA MERAJ

(2018-2022):

I am very happy to be a product of SREC Warangal. I was a student of very first batch (2018-2022). I am very much satisfied with Administrative incharges, all my beloved faculty members and with the infrastructure.

AZMERA DILIP RAJ

(2018-2022)

I am very proud to complete my B.Tech from SREC Warangal with the conceptual and devoted services rendered by all the faculty members. This type of Education showed me a way to become an "NITIAN" in Warangal.

SAI PRIYA PILLALAMARRI

(2017-2021)

Just because of the knowledge I acquired in SREC, I selected in the competitive exam conducted by TSPSC and selected in Town Planning and Country Planning Department and presently working in Karimnagar District.

RAJ KUMAR MAMINDLA

(2017-2021)