The Department has highly qualified, experienced and dedicated faculty and committed supporting staff. They possesses strong links with industry and our industrial liaisons help development programmes.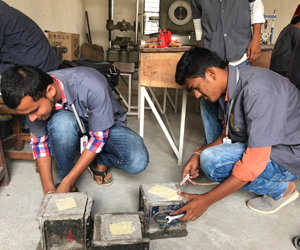 Concrete Technology Lab:
Normal Consistency of fineness of cement.
Initial setting time and final setting time of cement.
Specific gravity and soundness of cement.
Compressive strength of cement.
Workability test on concrete by compaction factor, slump and Vee-bee.
Young's modulus and compressive strength of concrete.
Bulking of sand.
Splitting Tensile Strength of Concrete
Flexural strength of plain concrete
---
Geology Lab:
Physical properties of minerals.
Physical properties of igneous rocks.
Physical properties of sedimentary rocks
Physical properties of metamorphic rocks
Structural Geology (maps and problems)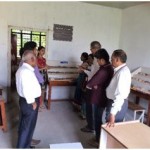 ---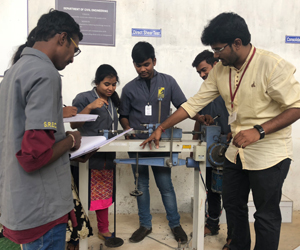 Soil Mechanics Lab:
Atterberg Limits (Liquid Limit, Plastic Limit)
(a). Field density by core cutter method.
(b). Determination of Specific gravity of soil.
Field density by sand replacement method
Grain size distribution by sieve analysis
Grain size distribution by Hydrometer Analysis
Permeability of soil by constant andvariable head test methods
Standard Proctor's Compaction Test
Determination of Coefficient of consolidation
Unconfined compression test
Triaxial compression test
Direct shear test
Vane shear test
Differential free swell index (DFSI)
---
---
Department

Testimonial
I completed my B.Tech Civil in SREC Warangal during (2018-2022). The field experienced faculty members and the regular faculty members taught the core subjects well. SREC is a very good disciplined college.

SYEDA MERAJ

(2018-2022):

I am very happy to be a product of SREC Warangal. I was a student of very first batch (2018-2022). I am very much satisfied with Administrative incharges, all my beloved faculty members and with the infrastructure.

AZMERA DILIP RAJ

(2018-2022)

I am very proud to complete my B.Tech from SREC Warangal with the conceptual and devoted services rendered by all the faculty members. This type of Education showed me a way to become an "NITIAN" in Warangal.

SAI PRIYA PILLALAMARRI

(2017-2021)

Just because of the knowledge I acquired in SREC, I selected in the competitive exam conducted by TSPSC and selected in Town Planning and Country Planning Department and presently working in Karimnagar District.

RAJ KUMAR MAMINDLA

(2017-2021)