The EPICS design process includes modules like problem identification, specification development, conceptual design, detailed design, product delivery and maintenance.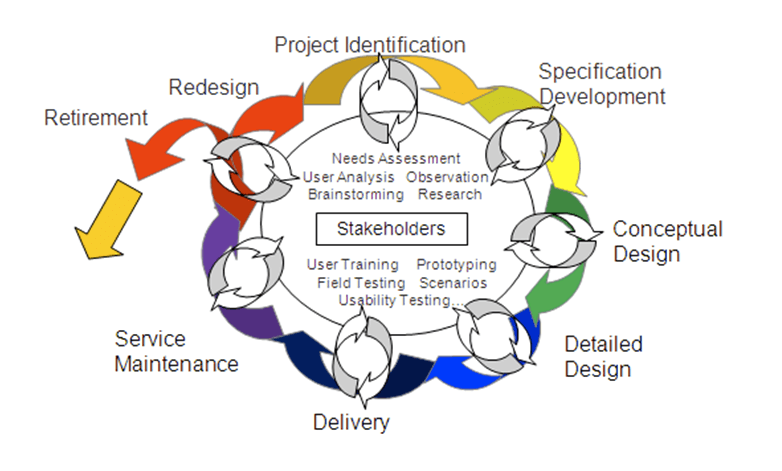 Phase I: The students will do ethnographic survey, interact with different communities and NGOs to identify the problems and there after these problems will be discussed among the team members and one problem will be finalized as the need statement.
Phase II: The students will be engaged with the community partner during the implementation of their project. They collect the inputs from the community partner to understand their needs and then develop the target specifications the objectives of the project.
Phase III: Students will do 'prior art search' to identify the existing products available and also they study the limitations of those products, so that it will be easy for them to generate novel ideas which will solve the problem. These innovative ideas will be brainstormed and low fidelity prototypes will be developed.
Phase IV: The student teams will take iterative feedbacks from the partner/users to refine their idea. Once the conceptual design is finalized, they move to the detailed design. Here they have to take approval from advisor about the product architecture (physical/functional decomposition, materials/specifications) and the special claims/ features of the project which make them unique from the available products of the market.
Phase V: After the detailed design, the product will be demonstrated before the expert team and then tested at the user premises. (verification and validation tests). Finally the product will be delivered to the community partners.
Assessment: Formative assessment will be done after each phase of the design process and grades will be awarded as per the defined rubrics. The evaluation sheet shows the parameters on which the assessment will be done.
Check List
Each team should submit the file with all these documents.
Individual's roles to be assessed using their assigned responsibilities.
NGO or Community partner's agreement (profile of the partner).
Detailed design includes the authenticity of working.
Testing videos at user premises and user feedback on paper.
Thesis report includes phase wise documents in binding format.