At SREC, Interdisciplinary student teams identify the real problems of the society and solve them by designing the engineering products which create a significant impact in the society. During the process, students get equipped with design skills, professional skills, customer awareness, project management skills, and an entrepreneurial mindset.
Background & Need
In our country 78 million people are living in slum areas.
WHO and health index of Indian slum
Globally, while a significant number of individuals have moved out of slums, the absolute number of slum dwellers has actually increased over the years. Latest estimates from developing regions indicate that the proportion of urban population living in slums has declined from 39 percent in 2000 to 33 percent in 2012. However, the absolute number of slum dwellers in urban areas from this region has increased from 760 million to 863 * (Corresponding author. I. Gupta, P. Guin) million for the same period. Comparative slum statistics from India revealed the same pattern; percent of slum dwellers marginally decreased from 24 percent (in 2001) to 22 percent (in 2011), while absolute numbers increased from 52 million to 65 million.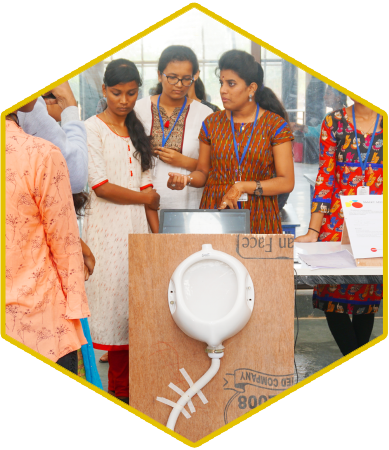 An earlier report from UN-HABITAT highlights that the urban poor, especially the slum dwellers in developing countries, is as badly off, if not worse off, than their rural counterparts. It also provides evidence of "a tale of two cities within one city"—one part of the urban population that has all the benefits of urban living, and the other part, the slums and squatter settlements, where the poor often live under conditions worse than those of their rural counterparts .Such living conditions also mean that the slum dwellers are likely to die earlier than the rest of the population of the city, and have fewer opportunities to improve their human development parameters.
The National Sample Survey (NSS) 60th round reports the proportion of ailing persons by residence status and sex during a period of 15 days: for urban India the figure was 99 per 1000 person, giving a morbidity rate of about 10 percent, which is somewhat lower than the rate estimated from the current survey of slums . This is consistent with the view that the slum dwellers as a whole are relatively less healthy than the general population. Similarly, the results were comparable with the NSS estimates on diarrhea and fever, which were reported as the two most common ailments (47.3% and 31.2% respectively). Around 90 percent of the ill individuals (1304 out of 1456) consulted a doctor for treatment. Of the remaining who did not seek doctor's help, a majority resorted to self-medication (71.7%), while some thought it was not necessary (27.6%). Almost no one reported distance or lack of availability of good doctors as reasons for not accessing treatment, again indicating the collective perception about availability and quality of health services in these slums.
Sanitation cleanliness status of Indian slums
Children in India suffer from stunting — defects in their growth rate — at prevalence far higher than many other nations of similar socio-economic states. The TIME report draws comparison to Sub-Saharan Africa, in which children are more commonly subjected to impoverished conditions; though do not suffer stunting at the same rate.
The report suggests that it is therefore not malnutrition that is the driving factor behind stunting in India, but lack of sanitation. With a potential half of the Indian population still practising open defecation, children are exposed to countless diseases related to exposure to human faecal matter
These outbreaks are often seen in rural communities without access to toilet facilities. Many individuals defecate in, or near water sources for the village. A single instance of cholera in a person can therefore spread to the entire community.
Hospital acquired infections
Lack of sanitation in hospital facilities is a primary means by which infections spread. As hospitals are a gathering of many people with a myriad of different illnesses, any lapses in sanitation protocol can prove deadly
Indicative of this is a case that has been unveiled at the Tuberculosis Hospital in Sewri. A total of 66 employees contracted the disease in the past five years, authorities said in reply to an RTI query. Of these, seventeen died. This number may be the tip of the iceberg as the figures only account for hospital staff. If staff themselves are becoming infected due to lapses in sanitation protocol it is highly likely the infection has been spread among patients and visiting families.
Preliminary Investigations and Problem Formulation
Ethnographic study
a. Project area – Sanitation
b. Place visited –Hospitals ,Slum area
c. Data gathered –Problem statements, photos and videos
d. Community partner – Hospitals, slum areas, diagnostic centers
List of problems identified:
Lack of water facility
No purity of water
No proper drainage system
No proper food facility
Due to lack of many facilities they are suffering from many diseases.
No sanitation and cleanliness
No power facility
Community partner details and user details:
High quality diagnostics are an imperative for better treatment and patient care. Apollo Hospitals Group, India's leading healthcare system, has thus far been delivering 3.5 million high-quality diagnostic tests every year, through its Hospitals and Clinics earning an 'excellent' rating from 95% of its patients. Apollo Diagnostics is the result of the 'good health for all' mission that is spurring the Apollo Hospitals Group to touch a billion lives. Following the corporate credo of bringing quality, affordable healthcare closer to the consumer, 2015 saw 100+ Apollo Diagnostics centres, in 2016 it has been grown to 150+ centres and 2017 landed with 250 + collection centres , 70+ Labs springing up in neighbourhoods across India, delivering expertise that is empowering to doctors and patients alike. Apollo Diagnostics' expert technicians and state-of-the-art diagnostic equipment are constantly guided by Apollo's 36-years legacy of excellence to ensure the accuracy and timeliness of test results..
Objectives:
Increase awareness about the importance of sanitation.
It advocates for an equity based approach that on the poorest.
To increase the living capability of poor people.
To decrease the health issues to some extent
To simplify the method of medical testing.
Deliverables:
Our project smart medical tester is used to perform urine test automatically without any manual actions and our project serves sterilized way of medical testing when compare to existing process.
Duration: Three months.
Action Plan:
Field visits and studies.
Designing of the smart medical tester.
Prototyping of the smart medical tester.
User testing.
Modifications according to the feedback of user.
Making final prototype.
Existing Products:
Normally in diagnostic centers urine test are done by strip method in which sample is collected in a sample collector and a strip is placed in it.
In this process while collecting the sample it won't be in an sterilized way.
So, we are performing urine test automatically by decreasing the use of unsterilized method.