SR – CISCO Networking Academy offers CCNA Certification and other Certification courses to all the streams of B.Tech and M.Tech students
A new batch of CCNA certification course commences on the start every semester, and all other certification courses start on demand of the students throughout the year.
CCNA Certification course consists of four modules framed by the Cisco Inc, USA. Total duration of the course is 4 – 5 months. These modules are conducted in two phases.
Phase-I
Cisco Certified Networking Associate (CCNA) 1 & 2 Modules (Duration of 50 – 60 days)
Phase-II
Cisco Certified Networking Associate (CCNA) 3 & 4 Modules (Duration of 50 – 60 days)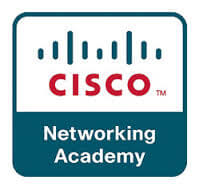 SR-CISCO Networking Academy Curricula:
The SR Cisco Networking Academy provides the skills needed to meet the demand with a comprehensive learning experience delivered consistently across south India & U.A.E
Emphasize critical thinking, problem solving, collaboration, and the practical application of skills
Offer embedded, highly interactive e-doing activities that stimulate learning and improve knowledge retention
Include hands-on labs, simulation-based learning activities, and innovative online assessments
Help prepare students for career opportunities, continuing education, and globally-recognized Cisco certifications
Provide learning pathways from Institute to Industry
The CCNA certification has been devised by CISCO and stands for Cisco Certified Network Associate. The certificate validates a professional's ability to understand, configure, operate, configure and troubleshoot medium-level switched and routed networks and also includes the verification and implementation of connections via remote sites using WAN.
Students who obtains the CCNA certification will again skills and experience in installing, configuring and operating LAN, WAN and dial access services for networks, installing and configuring various Cisco switches and routers in internetworks which use multiple protocols and have LAN and WAN interfaces; ensuring network performance and security; providing beginner level network troubleshooting services.
CCNA Job Prospects
The CCNA makes the students, well-rounded network engineer. Completing the certification process not only gives them a certificate, it trains them in multiple levels and areas regarding the ability to work with routed and switched networks.
The broad sets of topics covered under CCNA certification include:
WAN and LAN design
OSI models
IP addressing
VLAN and WLAN
Routers / routing protocols
Network security and management (ACL included)
Most Popular Job for Employees with a Cisco Certified Network Associate (CCNA) Certification:
Network Engineer.
Network Administrator.
Sr. Network Engineer
Information Technology (IT) Manager.
Software Engineer
Technical Support Engineer.
Systems Engineer (Computer Networking / IT)
Opting for a CCNA certification course will have a strong impact on your networking knowledge and qualifications. The exam establishes the fact that the candidate is prepared for a more responsible and practical position and is well prepared for real-time eventualities.
Along with the above CCNA certification it also offers many on demand industry related certification programs (Instructor Lead / Self Paced) such as
Networking Essentials
Mobility Fundamentals
Cyber security Essentials
IoT Fundamentals
IT Essentials
NDG Linux Essentials
CCNA Security
CLA: Programming Essentials in C
CPA: Programming Essentials in C++