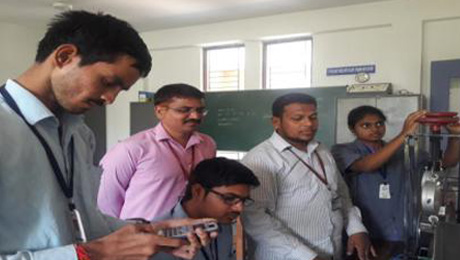 1. CONTROL SYSTEMS AND SIMULATION LAB :
In control system laboratory, students can observe the time response of second order system with various controllers like P, PI, PD, PID and determine the damping factor, rise time, peak time and settling time. Students can determine the transfer function of AC servomotor, DC servomotor and DC motor by conducting suitable tests. Students find the error between the desired output and the obtained output using Synchros. Further, the students compensate the noted error using the suitable compensator, for example, lead or lag or lag-lead compensator. Stability analysis is done using Bode plot, Root locus and simulate the same using MATLAB software.
In addition to the above, students perform an Open Ended Experiment (OEE) as the part of laboratory curriculum.
| S.No. | Name of the Equipments |
| --- | --- |
| 1 | Synchro transmitter and receiver |
| 2 | Magnetic Amplifier |
| 3 | Lead-Lag compensator |
| 4 | P,PI,PID controller trainer kit |
| 5 | DC servomotor |
| 6 | AC servomotor |
| 7 | DC Motor |
| 8 | Temperature controller using PID . |
---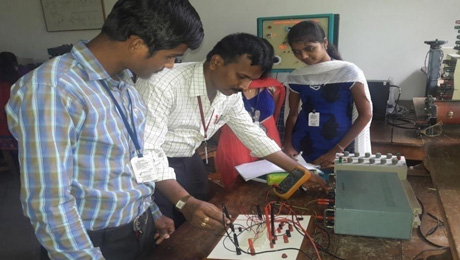 2. ELECTRICAL CIRCUITS AND SIMULATION LAB
From Electrical Circuits and Simulation Laboratory, the students will be exposed to gain the knowledge on Basic Electrical circuit components and connections to make real electrical circuits for the verification of different theorems. This lab will also help the students to analyze Network theorems in theoretical as well as practical perspectives. For instance, understanding the concepts of resonance, bandwidth and quality factor when the RLC Circuit is connected in series and parallel. Furthermore, the student can also be able to write and run the programs using softwares like B2Spice, Ngspice or MATLAB to get desired wave forms of voltage, current, power etc. Simulation related experiments are done in Electrical Simulation Lab.
| S.No. | Name of the Equipments |
| --- | --- |
| 1 | Desktop computers |
| 2 | Cathode Ray Oscilloscope |
| 3 | Function generators |
| 4 | Regulator DC power supplies |
| 5 | 3-phase inductive load |
| 6 | Trainer kits etc |
---
---
Department

Testimonial
We really had a great life at SREC.It gave us the best career. One of the best colleges in an around Warangal.We are blessed to have such faculty who are most encouraging and supporting all the time. Labs are well furnished with proper working machines. Our college is well known for its discipline and punctuality.Proud to be part of SR.

Ramyasree.khanderao (2012-2016)

Working at Infosys

SR provided me a good platform to learn things practically and guided me to become a professional. Apart from classroom teaching I was encouraged to be part of many additional activities which helped me in all round development. Being an electrical engineer I got placed in Infosys this is because of the training provided by my college. I am glad to be a part of SREC.

Neha Vishwanath

Working at : Infosys

I really feel glad to insist SREC,I experienced a great life at Sr and our faculty are very supportive and friendly.SR labs are well equipped and meet students requirements for learning. i feel happy to share my experience in srec..feeeling proud to be a part of SR.

Akhil Thonupunoori

(12-16 batch)

I have experienced Effective and fantastic Life at SREC. Our faculty are well expertise, supportive in education and extra curricular activities.Srec labs are well equipped with better learning facilities. Our college gave us the best carrier with top placements and great friends. I have placed in Cognizant and currently working for it. I feel proud to be a part of SREC.

Rakesh Degala 12-16

Working